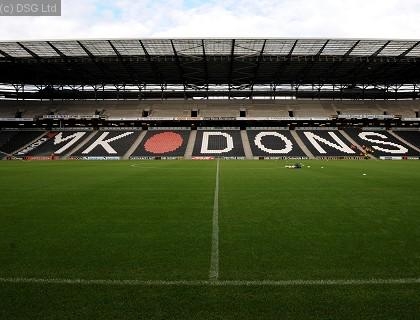 Both sides won FA Cup first-round replays this week, meaning AFC will travel to stadium:mk in early December to take on the club which replaced the original administration-hit Wimbledon FC and relocated to Milton Keynes almost a decade ago. The club formed by Wimbledon supporters in response have since been promoted five times in nine years to reach npower League Two.
The second-round tie will be the first meeting between the sides but many AFC fans plan to boycott the match as they do not want to recognise chairman Pete Winkelman's 'franchise' club which took their league position and still uses the name Dons. "It's up to them," Samuelson told Sky Sports News.
He added: "If (Winkelman) offers me his hand, as long as it's got a letter in it saying that they agree that what they did was wrong and that they're going to drop the name Dons, I'll shake it. Otherwise I think we'll just move on.
"I think it reminds them and everybody of how they originated. They really don't have much to do with Wimbledon but it's their decision, not mine. I'm not going to agitate for it, I think it would be the better thing to do but that's for them to decide."
The two clubs almost came face to face at the same stage of the competition two years ago, only for Stevenage to beat MK Dons in a first-round replay.
And Winkelman told Sky Sports News: "It was inevitably going to happen, it had been close to happening before but this time it seemed pretty real. We both had work to do but amazingly AFC got through their replay (against York) on Monday night and we followed last night with our victory over a spirited Cambridge City side.
"We are very keen to get this game played and get it done and dusted. There's obviously been a lot of history and water under the bridge over the last 10 years but it's a game the whole football world could be looking forward to. We certainly are. They are two good footballing teams. They come to us as a Football League team, which is an incredible achievement for them.
"They come to our beautiful new home which is an incredible achievement for us and I hope people will see the amazing things which have come from Wimbledon FC; ie the two clubs, AFC Wimbledon and the Milton Keynes Dons. I've been involved throughout the whole thing and come to it with all the baggage from the past as well.
"For our players and (manager) Karl Robinson it's something they are excited to be part of because it's history in the making. There will always be that controversy surrounding the clubs but this is a chance to get both on a football pitch and play some football. Win or lose it's great that it's going ahead and we will be able to look forward rather than back into the past."
Source: PA
Source: PA